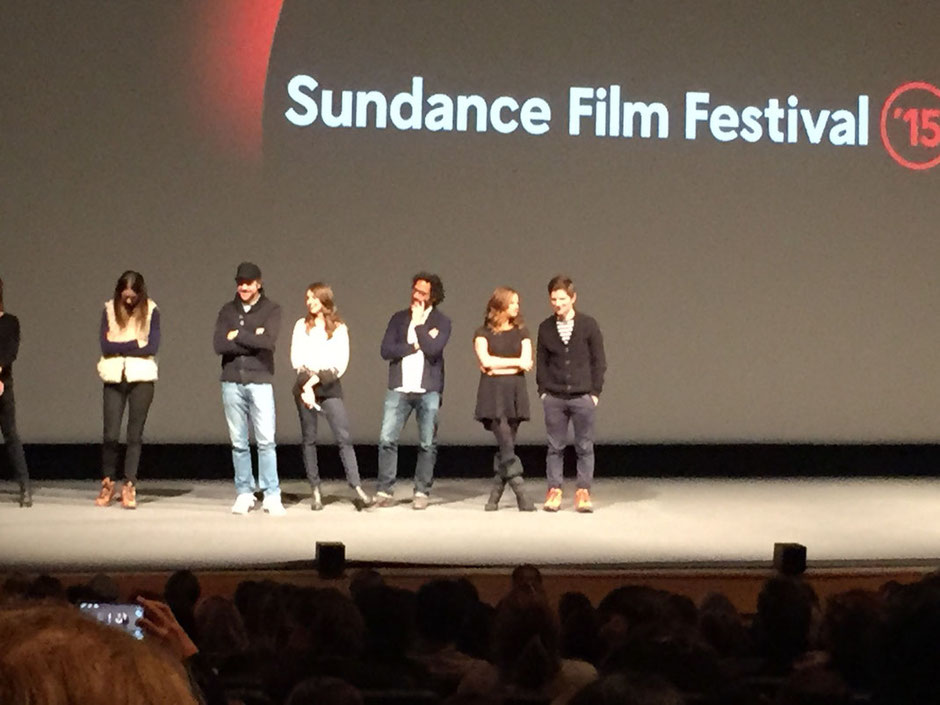 Celebrating its 31st anniversary, Sundance is now among the largest film festivals in the country and in the world, with some 50,000 attendees. However, it looked very different when it began more than three decades ago.
"The first year, there were maybe 150 people that showed up. We had one theater, maybe 10 documentaries and 20 films, and now it's grown to the point where it's kind of like a wild horse" Robert Reford, the creator of the event said. He also reaffirmed the necessity to embrace change "I believe change is inevitable," And I think we can see that there are some people who go with change; there are others that don't, because they're afraid of change. I want us to ride with it and use it to our advantage." 
He also talked about the importance of preserving the independence of arts in general and the role of the Sundance Film Institute and the Festival to continue to support and promote the freedom of expression as a fundamental aspect of the creative process.
"We believe in diversity, and freedom of expression is very much fundamental to us. You see a lot of films here that are going to upset other people, and that's OK. It's diversity. It's showing what there is out there. So, I think freedom of expression seems to be in danger in a lot of areas. But as far as we're concerned, we will do everything in our power to keep it alive."
Robert Redford was very present at this year edition. In an unusual move, his latest movie "A Walk in the Woods", in which he co-stars with Nick Nolte premiered at the festival.  It is a comedy about walking the Appalachian Trail — and getting older, a funny film with a most talented cast, old fashioned and sincere.
Days later he was on stage (a unique moment) for the performance "The Way of the Rain" – created and directed by the environmentalist visual artist Sibylle Szaggards Redford, his wife.
He also was joined by director George Lucas in a panel conversation about "Power of Story: Visions of Independence,"
The two veterans Hollywood luminaries talked about filmmaking, visual effects, Hollywood and the future of independent film.
Brad Pitt made a surprise appearance at the annual event on Friday, at the screening of the film "True Story", for which he is an executive producer. It was a photo op for two of the most powerful and handsome stars in Hollywood. James Franco was everywhere this year. He had two movies to promote ("True Story" and "I am Michael") and as usual, he proclaimed his love affair with Sundance Film Festival where he participates regularly not only as an actor but also as a visual artist (New Frontier 2011).
New Frontier. This year was devoted to virtual reality - experiences that make you feel like you're suddenly transported to another place in the so-called "immersive experiences". The immersion into virtual reality with goggles and headphones was a huge success; the new location on Main Street attracted the public more this year than ever before. Again, the bold and original decisions of Shari Frilot, the director of New Frontier, paid off.
We've seen more comedies than ever before and the documentaries were outstanding. The day one premiere of Liz Garbus 'What Happened, Miss Simone?" came with a surprise performance by Oscar nominated musician John Legend. Both the film and the mini concert were a real treat!
This year we had the chance to participate at two very special events at the Chase Sapphire lounge: a conversation with Harvey Weinstein and a panel with James Franco and the team of the new movie "I am Michael".
A very chatty and gregarious Weinstein praised from the start his friend for many years, Mr. Robert Redford (although "he never paid a lunch in his life!"): "Nobody's done more for independent film than Bob Redford. Building Sundance as a platform for so many of you to make films and be able to get good prices for them — to get them showcased and exhibited — is this one man's dream, one man's vision. Sundance has had a remarkable effect because it gives a platform to these movies that you can build upon all the way to the Oscars."
He also had a lot of words of wisdom regarding the industry: "Understand that tenacity has to rule the day. You have to hang in that ring. You'll get beat up a lot, but you gotta fight."
He talked about his favorite movies ("Topkapi" amongst others), his passion for cinema in general, and his beginnings in the business. He praised the Academy of Motion Pictures for their choices and their hard work although he does not agree every time with the choices they make at the Oscars.
Joined by the director of "I am Michael" Justin Kelly, Zachary Quinto and the real Michael Glatze, James Franco was greeted like the huge movie star that he became. Franco is now a Sundance fixture and this year he came to support two very anticipated films. He was by far one of the main attractions of the festival, leaving behind a handsome Keanu Reeves, a funny Jason Sudeikis or a very talented Ethan Hawke, the stars of "Knock Knock",  "Sleeping With Other People" and "Ten Thousands Saints".
A pleasant surprise was the presence at the festival of two films from Romania: the documentary "Chuck Norris vs. Communism" directed by Ilinca Calugareanu and in the special events category "Pioneer's Palace" written and directed by Romanian producer Bobby Paunescu.
We were a little disturbed by the film  "Partisan, a tough subject not to be taken lightly but, a little claustrophobic and even creepy for our taste. On the bright side, we had the chance to chat with the star of the film, Monsieur Vincent Cassel, a pleasant and memorable moment on the blue carpet of the premiere.
It was again a very busy festival, the gift lounges taking over Main Street and with parties at every corner. But, for the films buffs, Sundance is and will always be about the films, the actors, the Q & A sessions, the excitement of being here and appreciating the hard work, the sleepless nights, the joy of hearing the applauses in the darkness of a theater. It is all about the movies…
Prizes:
The U.S. Grand Jury Prize: Dramatic and the the Audience Award: 


Me and Earl and the Dying Girl 

/ U.S.A. (Director: Alfonso Gomez-Rejon, Screenwriter: Jesse Andrews)
The U.S. Grand Jury Prize: Documentary: 

The Wolfpack 

/ U.S.A. (Director: Crystal Moselle)
The World Cinema Grand Jury Prize:


Dramatic Slow West 

/ United Kingdom, New Zealand (Director and screenwriter: John Maclean
The Directing Award:

U.S. Dramatic Robert Eggers for The Witch 

/ U.S.A., Canada